Aranmula Sri Parthasarathy Swamy
From Hindupedia, the Hindu Encyclopedia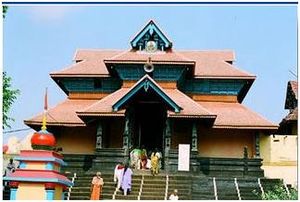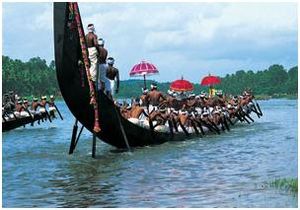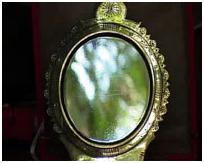 The Temple
[
edit
]
One of the most ancient and among the 108 Dhivya Dhesams, "Aranmula", a beautiful village, is located near Chengannur (Kerala). This temple is also called as "Thiruvaranmula". The presiding diety is "Sri Parthasarathy Swamy" and the Godess is "Padmasani Thaayar". The great Tamil poet, Nammalwar, has sung several hymns in praise of Sri Parthasarathy Swamy, thereby furthering this temple's prominence. In Tamil the village was called as "Thiruvaaranvilai" and the main diety as "Thirukkuralappan". The river Pampa flows through this village just next to the temple, making it a peaceful and picturesque scene to behold.

According to the legend, the five Pandava princes crowned their heir Parikshit as the king and left on a pilgrimage around the country. When they were in Kerala, each one of the brothers established a temple in honor of Vishnu and worshipped there. Yudhishtira built a temple at Chengannur, Bheema built one at Thiruppuliyur, Arjuna at Aranmula, Nakula at Thiruvamundur, and Sahadeva at Thirukkadittaanam. It is said that Arjuna initially made this Vishnu temple at Nilakkal, near Sabarimalai, and then it was brought here on a raft made out of six pieces of bamboo. And hence the name Aranmula stuck ('Aranmula' means six pieces of bamboo). It is believed that Arjuna built this temple to absolve himself of the sin for having killed Karna, who was Nirayuthapani (weaponless) on the battelfield (according to Dharma, one is not supposed to kill an unarmed enemy in battle).

The temple is constructed on a vast landscape and has four towers over its entrances on the outer Praakaram. The entrance of the eastern tower has a flight of eighteen steps. The northern gate leads down to the river Pampa. During the Malayalam month of Meenam, Aranmula witnesses a grand festival where Aranmula Parthasarathy is taken on a grand procession on Garuda (Garuda Vaahanam), while an image of Bhagawathi from the nearby Punnamthode temple is brought in procession for the Aarattu festival.
Aranmula is located just few kilometers from Pandhalam, the birth place of Lord Ayyappan. Till today, when the Sacred Jewels (Thiruvabharanam) are carried on foot from Pandhalam to Sabarimalai each year, the jewels are kept here for rituals, and then carried onwards to Sabarimalai. The famous Boat Race (Vallam Kali) is another major attraction in the Pampa river of Aranmula. Every year, during the Onam festival, participants come from all parts of Kerala to participate in the race. The snake shaped boats are about 100 feet length, with four helmsmen, 25 singers and 100-125 oarsmen. They are meticulously decorated and prepared for racing during Onam.

Many foriegn tourists visit this place during Onam for experiencing this event. Aranmula is also famous for its metal mirrors, made of a kind of bell metal, popularly known as "Aranmula Kannadi". Invented during eighteenth century, these unique mirrors are not found anywhere else in the world. The mirrors are made by a mysterious blend of bronze, which is waxed until they produce crystal clear reflections. Metal mirrors here are not made with any form of glass but instead are made using only the bell metal alloy.This unique science of mirror-making is known only to a few families in Aranmula, where the production techniques are held secret and passed down from one generation to the next.
Getting There
[
edit
]
Aranmula is situated 9 kms to the west of Chengannur. Chengannur is well connected by road and trains. Buses also run from Chengannur to Aranmula. Ask the driver for "Aranmula Ambalam", the bus stop in front of the temple. It is also accessible from Pathanmthitta by bus.