Bādāmi
From Hindupedia, the Hindu Encyclopedia
By Swami Harshananda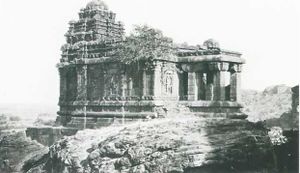 Bādāmi is a now a small town situated in the Bijapur district, in Karnataka, India that is situated on the side of a small hill.
Historical Significance of Bādāmi
[
edit
]
In ancient days, this town was known as Vātāpi, and was the capital of the Cālukyan empire during the period A.D. 550-753.
Attractions of Bādāmi
[
edit
]
Bādāmi contains several temples of the structural as well as the rock-cut varieties. Near the fort, there are temples dedicated to Hanumān and Śiva. Moreover, there are four cave-temples on the southern hill, situated on its western side.[1], which resemble the ones at Ellora.
The pillared halls in them show a high standard of workmanship and are uniformly of the same appearance. The pillars are mostly square in section, though a few of the inner colonnade in Cave no. 3 are multifaceted.
Features of the Caves
[
edit
]
Mālegitti Śivālaya
[
edit
]
Among the structural temples, the Mālegitti Śivālaya built on a hill overlooking the town of Bādāmi is quite significant. It is a massive solid structure, though not too large. It consists of a cella, an assembly hall, and a porch.
Cave no. 3 has fine shades like those of Ajantā. The most important and well-preserved of these is that of the betrothal of Pārvatī to Śiva. These paintings date back to the 6th century A. D.
References
[
edit
]
The Concise Encyclopedia of Hinduism, Swami Harshananda, Ram Krishna Math, Bangalore