Semmancheri Sri Srinivasa Perumaal
From Hindupedia, the Hindu Encyclopedia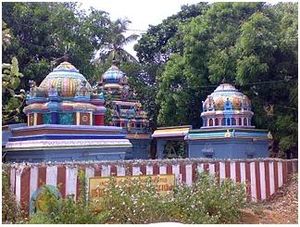 Semmancheri is located about 25 km from Chennai on the Old Mahabalipuram Road, just before Sozhinganallur. Semmancheri has a small, but ancient temple for Sri Srinivasa Perumaal. While traveling from Adyar, this small but ancient temple can be seen on the left side of the road.
This age old temple dates back to Pallava period. The presiding deity here is Sri Srinivasa Perumaal, accompanied by Goddess Sri Alarmel Mangai Thaayaar. It is said that a Pallava king who was ruling this part of the country lost his eyesight, after which he had worshipped Lord Srinivasa Perumaal here and got back eyesight back. Even today, many people who have problems with their eyesight come to bathe in this temple's pond and worship the presiding deity, in the hopes of getting cured.

The main deity, Sri Srinivasa Perumaal, is adorned with many glittering ornaments and is situated inside the sanctum. The Lord here is depicted in a standing posture. A tall and beautiful Dwajasthambham adds even more beauty to the ambiance. The Goddess Sri Alarmel Mangai Thaayaar is present at the southwest side of the sanctum. She also is beautifully decorated and is depicted in a posture where she is blessing her devotees with grace.

There is a separate shrine for Sri Kaalinga Nardhanar where Lord Krishna is shown in a dancing posture on top of the venomous demon snake, 'Kaalinga'. Sri Kaalinga Nardhanar here is believed to be very powerful. It is said that childless couples are blessed with a baby by worshipping Sri Kaalinga Nardhanar here for forty eight days.

Sri Aandaal shrine is located on the northwest side of the sanctum. Sri Anjaneyar is present in a small shrine at the northeast side, facing westward. The Sthala Viruksham for this temple is 'Athi Maram', which is located inside the temple near the Sri Aandaal Shrine. Just near the entrance of the temple, there is a shrine for Sri Navaneetha Krishnar, for Lord Vishnu. The pond for this temple is located about five hundred meters east of the temple.

Temple Contact :
Sri Srinivasa Perumaal Temple,
OMR, Semmanchery.
Tel : +91 98403 88836 / 98400 69650