Uthiramerur Sri Sundara Varadhar
From Hindupedia, the Hindu Encyclopedia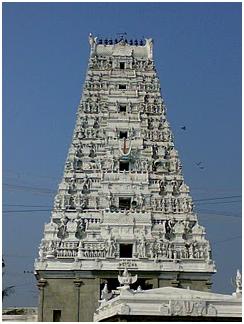 Uthiramerur village is located about 85 kilometres from Chennai off the GST Road. This is an ancient village well known for its temples, architecture, sculptures and stone inscriptions. The main temple here is for Sri Sundara Varadaraja Perumal, which is said to be built in 750 AD during the Pallava rule. A king called Nandivarma Pallavan donated this whole town to 1200 vedic scholars who settled down here. In those times, the town was called Uthiramerur Chaturvedhimangalam.

The main temple was renovated by Rajendra Chola in 1013 AD and again renovated by Krishnadevaraya in 1520 AD. Lord Vishnu is generally portrayed in either of the three forms, Ninraan (நின்றான்- Perumal in standing posture), Irundhaan (இருந்தான் - Perumal in sitting posture) or Kidandhaan (கிடந்தான் - Perumal in reclining posture like Ranganathar). This is one of the few temples where a darshan of Perumal in all his three forms is available.

This is one the most ancient and wonderful temples filled with architectural brilliance with great sculptures. The sanctum is built in such a way that all three forms of Lord Vishnu are set one above the other as three levels or floors. The presiding deity is Sri Sundara Varadaraja Perumal, sculpted in standing posture, along with Sri Devi and Bhoodevi at the first level. There is a staircase on which one can easily climb to go to the next floor, just above the main sanctum. In this next level Sri Vaikunda Varadhar is seen in the sitting posture.

While climbing up to the next level there is a depiction of Sri Parthasarathy preaching the Gita to Arjuna on the outer wall facing south. Lord Narasimha is present on the outer wall facing westward and Sri Varaaha Perumal with Lakshmi is present facing north. Here Varaahar is in a sitting posture, with Sri Lakshmi sitting on his lap looking at Varaahar's face in a praying gesture. There is also Sri Dhakshinamurthy on the tomb facing south, something that is unusual in Vaishnavite temples. In the third (upper most) level, the Lord is in a reclining posture on Aadhiseshan as Sri Ranganathar. Lord Brahma is seen on a Lotus emerging from Ranganathar's navel. Lord Shiva is seen near the feet of the deity with the Deer and Mazhu (a weapon) on his hands.

Lord Ranganatha is seen here, blessing Markandeya Rishi with his right hand. Bhoodevi is in a praying gesture standing opposite Markandeya. Other than these, there are other deities called Achudha Varadhar, Aniruddha Varadhar and Kalyana Varadhar in the three sides of the prakaaram. It is said that the Pandavas visited and worshipped the Lord here during their Agnanavaasam (when they hid themselves and roamed around in forests). It is said that Sundara Varadhar was worshipped by Yudhishtira, Vaikunda Varadhar by Bheema, Achudha Varadhar by Arjuna, Aniruddha Varadhar by Nakula and Kalyana Varadhar by Sahadeva. It is also said that Pandavas had lost their power and wisdom, but after worshipping here, they gained it back.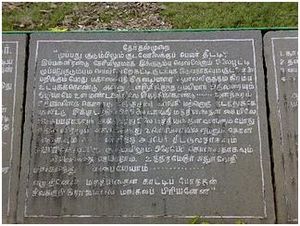 Uthiramerur is also known as the birth place of democracy. The stone inscriptions in this town explain how constitutions were laid for democratic administration and electoral systems. People here have followed the election system, called "Kudavolai", for electing their favorite leaders in the local elections, and the rules for nominating in elections and the voting systems were the the forerunners of today's electoral systems.