Thiruvalidhaayam Thiru Valeeswarar
From Hindupedia, the Hindu Encyclopedia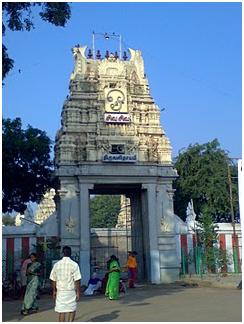 Thiruvalidhaayam (which is called Paadi nowadays) is situated in the suburbs of Chennai, about 2 kms west of Villivakkam towards Ambattur. The temple is dedicated to Lord Shiva who is the main deity called Sri Valeeswarar and Goddess Sri Jagathambigai. As the sage Baradhwaaj (not the one who is among 7 Saptharishis), had worshipped Lord Shiva here in the form of a Karunkuruvi (black bird) called Valian (வலியன்) the place came to be known as Thiruvalidhaayam and the Lord Valeeswarar.

This village had been a storage place of weapons during the war times. Such places used by the kings for storing weapons were called as Paadi Veedu in ancient days. The kings before starting to the battlefield, picked up their weapons from such Paadi Veedus, worshipped Sri Kaali and then proceeded to the battle. Hence the place could have got its name as Paadi in later days. There is also a Padai Veettu Amman temple nearby this temple, which is believed to have been worshipped by the ancient kings.

Legend has it that two daughters of Brahma, Kamalai and Vimalai, were both fond of Lord Shiva and wanted to marry him. They went to him and prayed to grant their wish. Lord Shiva explained that since he was already married to Goddess Parvathi he could not marry them again, but assured that they can get married to his son Sri Ganesha who is blessed with equal divinity. Later Lord Ganesha, after killing the demon king Gajamukhaasura, came to this place and married both of them.

This wonderful temple has many inscriptional evidences right from the 12th century. Thirugnana Sambandar has sung hymns on Lord Shiva here. Arunagiri Nathar has also sung praises on Lord Muruga at this temple. Another rare feature of this temple is that this is one among the three temples where Guru Bhagavan had worshipped the Gods. The other two are Thiruchendur and Thenkudi Thittai. Guru Bhagavan has a separate shrine here at the outer praakaram. There are various stories of Lord Shiva being worshiped in this temple by Saint Agasthiyar, Baradhwaaja Rishi, Lord Surya (Sun God), Lord Chandra (Moon God), Yama, Agni, Sri Rama, Sri Anjaneya (Hanuman), Sukreeva, Lava, Kusa, Manmadha & Lord Indra at various periods in time.
A beautiful Valampuri Vinayagar sitting under an Arasa Maram outside the temple, welcomes you in. An image of Nandhi and a grand Dhwajasthambha (Flag Pole) is seen at the entrance of the temple. The sanctum is in a circular kind of shape at the back. This type of architecture is called Gaja Brishta Vimana or Thoonganai Madam (தூங்கானை மடம்) as this looks like the back of a sleeping elephant. Ambaal Sri Jagadhambigai is facing towards South. A beautiful Simha Vaahana faces the Goddess from the outer Praakaram. The inner praakaram is decorated with Sri Dhakshinamurthy, a Shiva Linga worshipped by Anjaneya, Nayanmars, Sri Durga, Brahma etc. Wonderful sculptures beautify the pillars of the inside Stone Mandapam. One can see the brilliant sculptures (in the pics) of Sri Parvathi embracing Shiva Lingam, Kannappa Naayanaar plucking out his eye for Lord Shiva and Lord Shiva stopping him, an ancient Sadhu or traveler with Thambura-like musical instrument and some baggage on his head etc.

The temple also maintains a Ghoshala, a rare sight in today's temples and a Nandhavanam along the walls of outer praakaram which adds beauty to the temple. There are evidences of this temple in ancient inscriptions saying "Jayangonda Chola Mandalathu Puzhal Kottathu Ambathur Naattu Thiruvalidhaayam" (ஜயங்கொண்ட சோழ மண்டலத்து புழல் கோட்டத்து அம்பத்தூர் நாட்டுத் திருவலிதாயம்), which explains that this place was under Ambathur & Puzhal territories in ancient days.

The Theertham given by this temple is called Baradhwaaja Theertham and the Sthala Viruksham (tree) is Paadhiri.